* * * * *     U  P  D  A  T  E    * * * * *
11/13/18 An anonymous donor has agreed to match up to $3000 !!!
            Please help Mufasa on his incredible journey!
Mufasa was discovered by an RSVP Community Outreach volunteer in May, 2018.
He was a product of backyard breeding, an unfortunate practice used regularly in low income areas for financial gain.
The breed was a mix of French and English bulldog and pitbull, resulting in a larger dog with short legs.
Mufasa was the only surviving puppy of a litter. His siblings were severely deformed as a result of inbreeding and did not survive.
Mufasa's right front foot turned completely sideways. His owner said that when Mufasa was two (2) months, he was bitten by another dog. This was the owner's explanation for the deformity, and he offered to surrender the pup. Mufasa was 4 months.
Shortly after rescuing Mufasa, he was taken to a vet. It was discovered that the past bite injury resulted in a serious infection and Mufasa had a fracture as well. Both of these injuries further compromised his already deformed leg.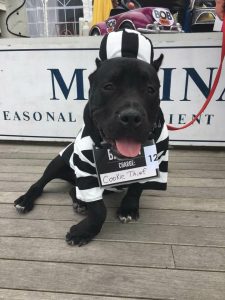 The vet prescribed rimadyl for the pain and inflammation, to be taken twice daily. Rest, TLC and time was needed to recover and reevaluate his condition.
The volunteer fostered the pup and worked with him every day to heal, exercise and strengthen his legs.
Mufasa had difficulty walking and stairs were nearly impossible. In addition to his badly deformed right leg, his back legs were extremely bowed.
As the months passed, Mufasa continued to experience difficulty. He limps and will often trip over his own foot. In October, he was seen by a specialist who explained the complications with the dog's bone and growth plate development. Mufasa's condition would worsen over time, resulting in lameness if not addressed.
The best alternative would be to wait until Mufasa's growth was nearly complete, after one (1) year of age, and undergo surgery to correct the injury and defect.
Mufasa's sad life began at birth, born in a dark shed with inadequate care.
RSVP, together with the dedication of our foster volunteer, will make every effort to provide the love and medical attention he was denied.
And with your help, Mufasa can have a brighter future.


Note: "Select Payment Method" Click "Paypal" to donate by credit card.
Paypal account is not required.

Mufasa's Goal: $10K
$6,000 surgery
$3,000 rehabilitation
$1,000 brace
Donor Wall – Special thanks to the following donors 🙂
11/10/18   $  50   Priscilla Z.
11/10/18   $100   Monica M.
11/08/18   $100   Kathleen E.